2018 VOA Field Closure Dates: May 27, 28. June 9, June 10, July 30 - Aug 6
Cricket Field will be open during Soccer/Lacrosse tournament weekends: 6/30, 7/21, 8/11, 9/1
---
CINCINNATI green - 2018 Titan t20 southwest champions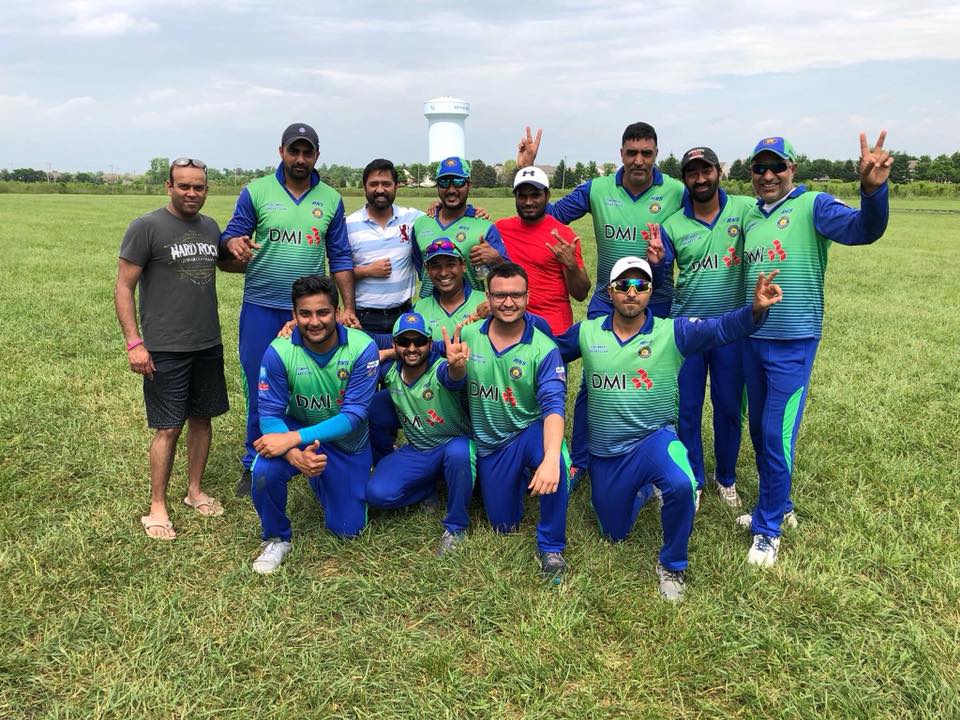 Proud day for Cincinnati Cricket Club as both top tier teams from the club faced off in the Southwest Regional Finals of the MCT Titan T20. The game was played on May 20 2018 at VOA Park. Both Cinci Orange and Cinci Green clinched victories in the Regional Semi Finals against KCC and LCC respectively. The much awaited all Cinci final saw Green beat Orange by 25 runs. Cinci Green now moves on to the Titan T20 Final four where they will play the Columbus region winners for a chance to be overall champs.
---
DMI CINCINNATI WIN 2017 T20 Mayors Cup
DMI Cincinnati won the Mayors Cup T20 championships
beating
CCI by 64 runs at the newly inaugurated Sunil M. Gavaskar field in Lousiville, KY. The team members had the privilege of meeting Mr. Gavaskar who was the special guest for the Mayors Cup, along with Louisville mayor, Mr. Greg Fischer.
Read about the new Sunil Gavaskar ground.
DMI CINCINNATI orange win 2017 mct-35 DIVIsion ii championships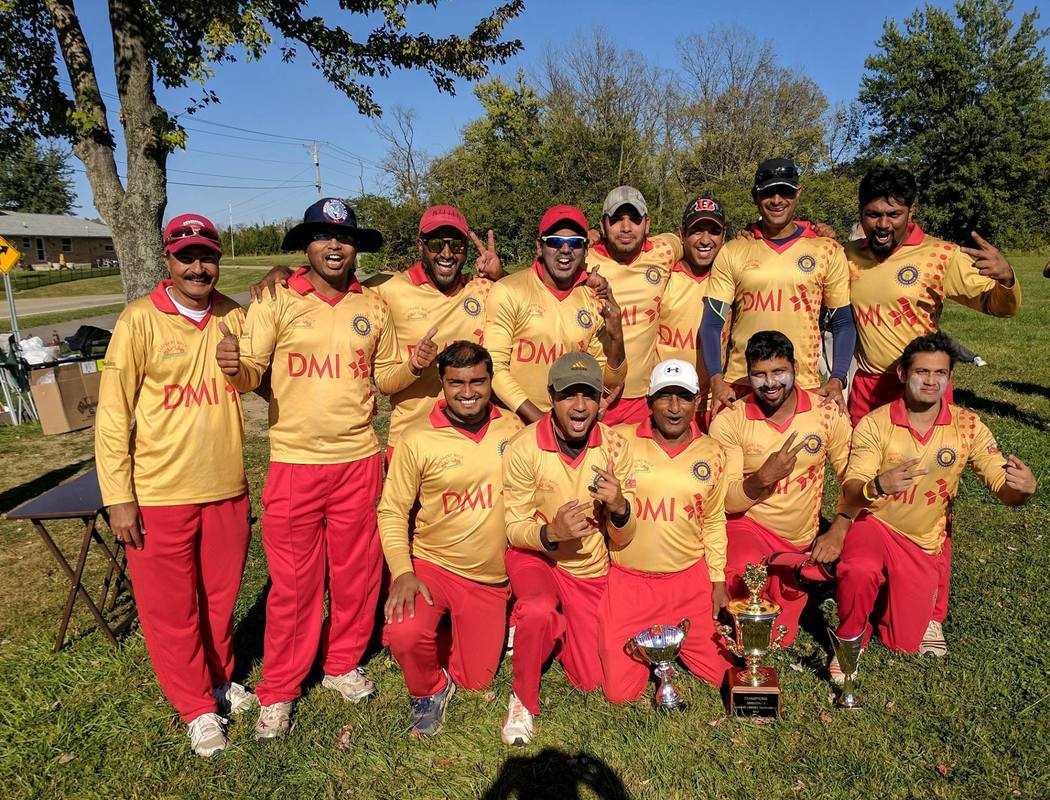 DMI Cincinnati Orange
beat
CICC-Titans by 8 wickets in the MCT Division II Finals. The victory also promotes the team to 2018 Division I.
In the Division I Semi-Finals, DMI Cinci Green lost to Dublin CC Stars and in the Division II Semi-Finals, DMI Cinci White lost to CCI.
---
RISHI DHAWAN and ravi inder singh turn up for DMI CINcinnati green in DIV i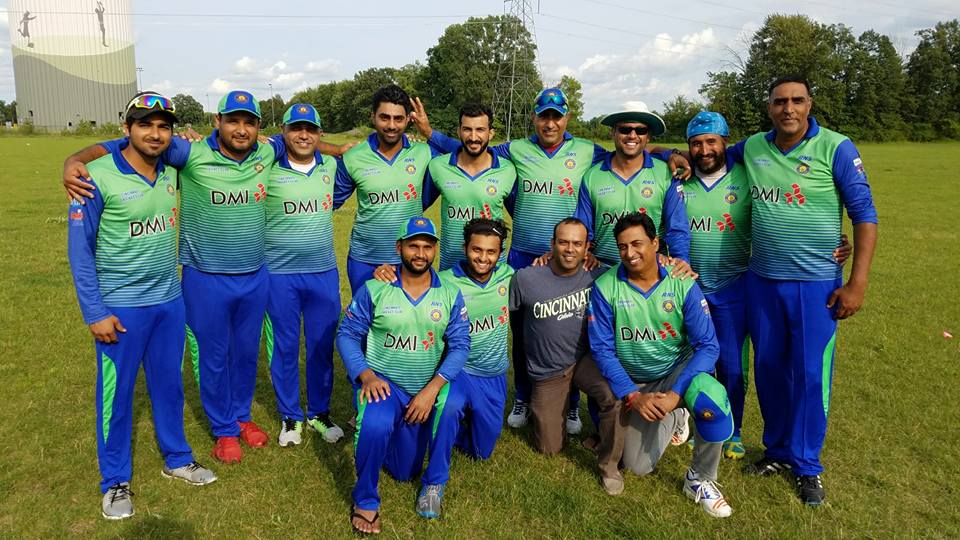 Cincinnati Cricket Club had the pleasure of being represented by two former India A/India players, Ravi Inder Singh and Rishi Dhawan. DMI Cincinnati Green were able to arrange for both Ravi and Rishi to play for them in their Division I game vs Dublin CC.
Ravi Inder
(Punjab Ranji and India A) and
Rishi Dhawan
(India, India A, Himachal Pradesh, KKR, Kings XI Punjab, Mumbai Indians) contributed significantly to the win on Saturday. It was a fantastic and unique experience for the Cinci Green players, and the reception offered to them by the cricket community in Columbus was very well appreciated. Congrats Cincinnati Green! Game Scorecard
---
DMI CINCINNATI GREEN and DMI Cincinnati orange REACH 2017 SW REGIONAL T20 QUARTERS
All three DMI Cincinnati teams competed in the MCT Titan T20 tournament, with DMI Cincinnati Orange and Green proceeding through to the playoffs only to lose in the Quarter Finals against LCC-S and OAS respectively. Scorecards available
here
.
---
dmi cincinnati compete in the 2016 mct fall t20 south regional finals
DMI Cincinnati Green beat DMI Cincinnati Orange in the Finals of the South Regional.
Scorecard
2016 MCT TITAN T20 & T35 TOURNAMENT UPDATES
---
2015 MCT T35 DIVISION II RUNNERS-UP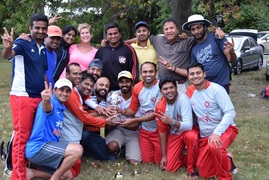 DMI CINCINNATI II FINISH AS MIDWEST CRICKET TOURNAMENT T35 2015 RUNNERS-UP

​
DMI Cincinnati II lost to Frankfort CC by 87 runs in the 2015 Midwest Cricket Tournament T35 final.
Scorecard
---
---
2014 MCT t20 Tournament champions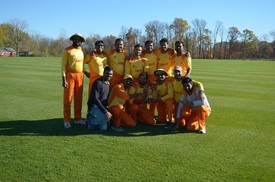 KALVIN CINCINNATI I REPEAT AS MIDWEST CRICKET TOURNAMENT T20 2014 CHAMPIONS

Kalvin Cincinnati I beat Cricket Club of Indianapolis by 9 wickets to repeat as the 2014 Midwest Cricket Tournament T20 champions. Batting first, CCI scored 147/5 in 20 overs with the Cincinnati bowlers doing well to restrict the high scoring CCI openers. The chase for Cincinnati got off to a fast start as Thiag (23) and Parikshit (72*) led the charge from the first ball. Nabil scored an unbeaten 34 to ensure a comprehensive 9 wicket victory. Parikshit was awarded the Finals Man of the Match for his unbeaten 72. A fantastic victory and well deserved championship for Cincinnati Cricket Club.
---
---
KALVIN CINCINNATI COMPLETE 2013 TREBLE
WINNERS OF THE MCT T20 T35 AND UCC T20 TITLES
---
Sponsors

​
---